Core23Lab and Basic Internet Foundation signed a Memorandum of Understanding on the 22nd of September 2020.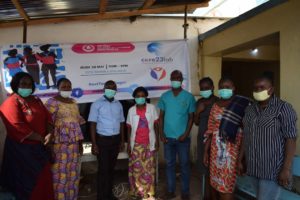 The Core23Lab is a non-governmental organization registered in the Democratic Republic of the Congo (DRC). Core23Lab's mission is to empower communities with knowledge and opportunities to harness the potential of the continent through leveraging innovation, entrepreneurship, education and technology to solve community challenges.
Core23lab works to ensure that technology is at the heart of bridging gaps that exists in communities and a way to diversify and decentralize opportunities. Core23Lab was an idea born out of a mining town in DRC-Congo where the current sector is faced with the danger of depleted resources, a growing population and no support for innovation. We view the uptake of technology as an enabler in achieving SDGs as well as a means to stay ahead of the evolving global changes. Its name is derived from the foundation of a community within the country code +243 and hopes to serve as a core between the four elements of Technology, Innovation, education and entrepreneurship to ignite sustainable development and help communities adapt to the 4th industrial revolution. Its methods of working include capacity building, research, gender mainstreaming, consultancy and innovation to ensure we engage communities to greatness.
Its current run flagship project "Core23Lab community Thinkers Program" Whose goal is to recruit, train and mentor cohorts of community thinkers who want to leverage on technology, education and entrepreneurship to solve challenges in their communities via an online learning platform.
Basic Internet Foundation promotes free access to information for all, and has established community-driven informations spots to provide free access. The Foundation's distributed architecture opens for a quick deployment of a cost-effective Internet distribution worldwide, allowing for a reception of a 3Gl4G network even in areas with no connectivity. The costs of the infrastructure itself is as cheap as a mobile phone, about 300 USD. For a CAPEX of about USD 1100 we enable lnternet access for everyone in the society. While lnternet links are expensive, its information spot solution has OPEX of typically USD 15-20 per month. Given the cooperative model for digital inclusion, they expect that an information spot can have OPEX costs of less than USD 10. Their business model for freemium access to internet is sustainable, though needs a collaboration of stakeholders.
The goal of the collaboration is to promote digital inclusion through access to digital equipment, Information Spots to the mining communities in DRC in order to help Core23Lab reach its goal of fostering innovation, education and entrepreneurship so as to trigger sustainable development within these communities. Through the pilot operations, we will establish the proof of concept for digital inclusion to address the four goals they focus on, and enable its communities adapt to the 4th industrial revolution. The proof of concept is the basis for project proposals extending into other places, and to invite shareholders in the digital inclusion.
Our call for action entails invitation of shareholders to the digital inclusion agenda and project, entrepreneurial experts, funding mechanisms via donor institutions, partners from both the public and private sectors and other non-governmental organisations.

Two examples addressing the role of broadband, regulations and municipal networks. And they leave the question:
What can we do to give everyone free access to information?
[/vc_column_text][/vc_column][/vc_row]