Join us and provide meaningful connectivity to schools in Tanzania, Kenya or another African country.  Connecting 10 schools gives 5-10.000 girls & boys access to the digital world.
5 schools = 9.000 USD
10 schools = 18.000 USD
50 schools = 90.000 USD
Make their wishes come true, and take responsibility for some schools. We will earmark your support to specific schools, and put you/your organisation in contact with the schools whom you connected.
Recent achievements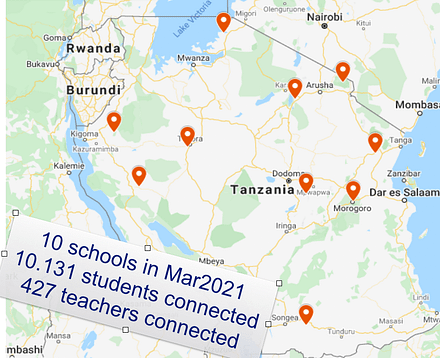 Catherine Kimambo connected 10.131 girls and boys in 10 schools in March 2021.
She is hoping to connect 200 schools in Q1.2022
In September/October 2021, Barrack Otieno and his team from AHERI connected 27.501 girls & boys at 45 schools in the counties surrounding the Winam Gulf of Lake Viktoria, and need support to scale up to 1000 schools. This activity was sponsored by our premium partner DENT Wireless.

Help us in connecting the unconnected
Take the responsibility that 5, 10, 20 or 50 schools get connected. With our communities in 12 countries in Africa, we will get your schools connected. Our unique solution provides free access to information on the internet for as little as 20 USD/month, a sum that even smaller schools can afford. If more bandwidth is needed, we have agreements with
operators such as Safaricom in Kenya to provide us SIM cards offering 5 Mbps for 58 USD/month.
See the video on School Connectivity in March 2021
Read here about our InfoSpot and the school/community server
Together we make the difference
Josef Noll, our Secretary General, started "Connecting the Unconnected" in 2012 through satellite-based connectivity to Kinshasa and Lisala in the Democratic Republic of Congo (DRC). The idea was born, but the business model did not work. Together with Iñaki Garitano, they developed the concepts and infrastructure for meaningful and affordable connectivity. Kjeller Innovation and UNIK (Now: UiO) saw the need and established the Foundation in 2014.
The first proof-of-concept was the Caritas Kinderdorf in Bottrop (Germany) back in August 2018, where we connected 60 children and their 30-40 supervisors. In 2017 we received fund by the Norwegian Research Council (NFR) and the Norwegian Agency for Development Cooperation (Norad) to pilot the solution in 10 village in Tanzania. The success, demonstrating a knowledge increase from 9% to 57% (after 12 months) paved the way for connecting schools, and since then the ball is rolling.
We ask for your help in School Connectivity, by directly supporting a package or through other contributions.